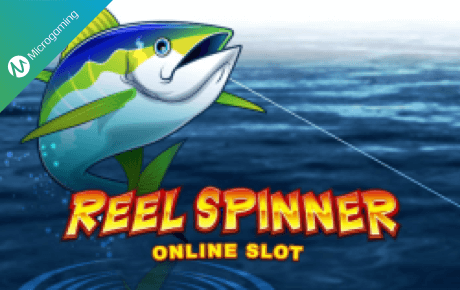 If you know even one of the further words, then this video slot will be much more excited for you than for the people who just want to win the real money online without registration and download in the special casinos. So, this is a list of words which are united with one very interesting and gambling deed: a spinning, a trolling, a jig, a mikrojig, a twitching, a sbirulino, a nudling… Those who said "fishing" can smile and be proud of themselves, but those who could not guess we are asking to not be abused and just keep reading this review about fish-themed Reel Spinner Slot.
In order to swim free in the gameplay read this
The five beige reels are vertically divided with light-blue frames. Behind the reels, you can see clean summer sky with only a few white fluffy clouds. At the beginning of the preparing for fishing time, do not forget to choose a wager which you will take with yourself in the slot's game. How much can you set? There is a special and very strict range. (Only from 0.010 to 0.050 coins.) If you wish you can just push "Max Bet". The "coins number" (via a line) is an important value. It will be regulated by "Coins". Reel Spinner Slot has another start-button then most usual slots and it is a "Spin". The symbols are the "portraits" of the fishes: a lilac-blue flying fish; an orange sad looking barracuda; a greenish-blue sturgeon; an angry, pike-like, long narrow fish and with a bright-green body a parrot-fish which fins and a tail are colored in the shade of a sea wave. There is also a bright-yellow reel with a poisonous-green line; a circular blue compass with white pointers and a light-brown round "frame"; a small white with bright-red stripes closed cabin boat and a control lever of the boat against the sun setting down the horizon.
Bonus rounds will not only make your mood fine
The logo of the Reel Spinner Slot has here the "Wild"s role and is replacing regular symbols. The black silhouette of the jumped out the sea swordfish is a scatter. We are offering you to look at the allowed features. The modest "Free Spins" gonna be started by a collection of the 3+ swordfishes. The breathtaking and colorful "Win Multiplier" can be started in the same way as previous one but after you will come into it, you will have 2 interactive mini-games. The 1st is starting with offering you to choose which boat will be "in-game":
The 1st – a light-brown inflatable with a wooden bottom and two motors. (It worth the free 5 spins.)
The 2nd – a bit bigger ivory boat also with the same number of motors and free spins.
The 3d – a slightly thinner than previous one and has a blue bottom. (This boat brings 10 spins.)
The 4th – a bluish-beige and most stylish of them al. (Worth 15 free spins.)
The 5th – a light-coralline with two sits. (Giving free 20 spins.)
The 6th – a most bright because it colored with fresh-green and woody-orange. (Also worth 20.)
After the finishing by you the first round, be ready play in the second. Here you will have to make a random spin with the fishing rod. (We will not tell you about all details because it can be bored for you. Better try yourself and see what will great happen to your winnings.)