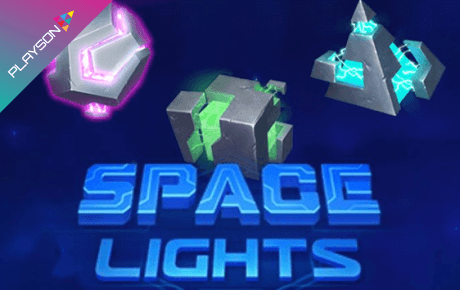 Space Lights is a very beautiful slot machine from Playson, which uses the themes of open space and the distant future. It also has unusual game symbols in the form of geometric shapes, and interesting game mechanics that turns every game session into an intergalactic adventure!
Description of the interface of the Space Lights slot machine
The game screen of the Space Lights emulator is an animated image of an open space or some distant nebula. Against this background, there are 5 absolutely transparent game drums, because of what it seems that the icons soar in weightlessness. The gamepad of the slot is made almost unnoticeable so as not to overtake all attention, and has the following elements:
Bet: Set the number of coins per line to bet;
Bet Max: Set the maximum bet that the slot allows;
Autoplay: Set the number of times you wish for reels to turn without interruption;
Spin: Set the reels in motion.
The Space Lights video slot allows players to bet coins from 3 to 75 cents for one or all of possible 15 lines. This range allows both experienced players with a developed strategy, and newcomers who are just starting to get acquainted with the slot to have fun.
Description of the game symbols of the Space Lights video slot
The symbols in the Space Lights game machine are quite unusual. This is a set of three-dimensional geometric figures: a pyramid, a cube, a dodecahedron, a cylinder and a prism, as well as flatter counterparts, either enclosed in a ring, or simply looking like neon projections. All of them have their own multiplier that you can find out in the payout table. Now go directly to the game mechanics.
There is no scatter in the game, but there are two Wild symbols at once: Regular Wild (a yellow icon in the form of a letter W in a hexagonal frame) and Sticky Wild (the same letter, only in the form of a coat of arms). They produce different functions;
With each spin, a portal appears at the top of the drums. If the top character closest to the portal is a part of a winning combo, then it turns into Sticky Wild and launches the Space Light mode. During this time, all other reels are restarted;
If the next character also becomes a part of the combo, it will become the same Wild again and launch the re-spin;
If you collect a complete game column from Sticky Wilds – get a bonus;
4 and 5 drums are activated by the portal at the same time, doubling the chances of getting Sticky Wild.