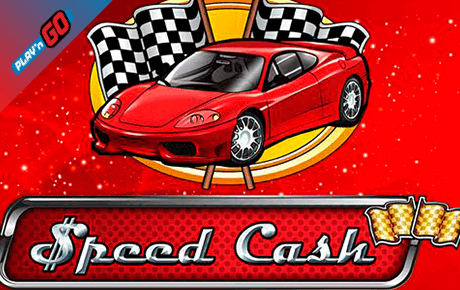 Do you like the auto-theme? Then keep away downloading/registrations and read this review about Speed Cash Slot. In the paragraphs which are written below, you and all curious about gambling people will find necessary information about "Play'N Go"s video-slot. (A short notice about this provider: in the popular game selection, all players can find out a combination of games in the casino with an outstanding graphic-design, sound, and animation, which will, definitely, give the gamble-admires a high game-quality. All slots are available in 30 (!!) languages. Slots which have a supporting of "Full HD" could be scalable dynamically as well.)
The quite understandable game process will not make your head "boil"
There are only 3 light-silver reels which are framed with a common border that has neither ornaments nor special prints. Around is a deep-gray almost black background which is looking like a chic car seat. Over the reels, on the red field has been placed in the stylish silver border a logo of Speed Cash Slot – silver italic text: "Speed Cash". Instead of "S" there is a sign of dollar ("$") and slightly over the last letter ("h") are visible four honey-orange striped flags. The right part of the gambling field is owned by smarty divided help-panel where, at any time, a player can remind about all present, in the slot's game, icons (a bright-red car looks like an auto of the "Dr. Ing. h. c. F. Porsche Aktiengesellschaft" or simply "Porsche" with two black-white "finish"-flags; the stakes of the silver coins; a paper stack of dollars and a golden bar with signed like "GOLD") and their "cost". Over the "faces" of the symbols, there is a pretty speedometer. Whatever player would want to play (in demo-mode) with a large wager or a middle, its size is always fixed and equals "0,25". This can be checked by pressing on the image of "two tiny gears" at the right lower corner. In the small appeared window, there is a capability, by using "- +" arrows-regulators which are located beneath "Coins" (could be choose only "1", "2" or "3") to set the desired value. The "Lines" present but cannot be changed due to the existing of the one only payline. There is in the Speed Cash Slot, located under the 2nd reel, a button for "betmax". Clicking on the beige 3D rounded from all sides a reel-spinner. Every time the gambler is pressing it, the arrow on the speedometer is "running higher". The option "autoplay" which is not only present but also could be fine-tuned (from "10" to "50" automatic reel spinnings can be performed and not only these parameters are allowed to set) is laying by the right side of "SPIN". When the online-user of the casino will decide to play by this very comfortable function, the selected number of "auto-spins" will be visible instead of the title of start-button and after every new "automatic spin" will be running, the selected number will decrease by one unit. By gamble-admire's right hand, in the "floor", she/he can click on the sound/music-accompanying regulator to switch it off/on.
The modest but such an exciting feature
To our great regret and to the huge disappointment of gamble-admire, in this auto-slot, there are not any special symbols, similarity to "scatters" and "wilds", for unlocking bonus rounds or opening access to "Free Spins". Also, in Speed Cash Slot, alas, you will not find any way to test your extrasensory abilities or to experience an innate (if nature endowed it with you) intuition that helps you make decisions in emergency and everyday, life situations. But! There is a lovely PJ (Progressive Jackpot) which can be won by "holding" on the reels 3 "red Porsche" (only if player have put a 3-coins wager – the maximum allowed bet quantity in Speed Cash Slot.