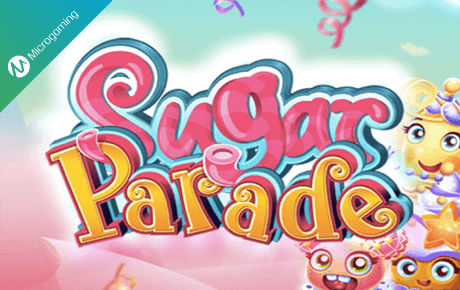 Who doesn't like lollipops? Now it is hard to find such a person who hasn't tried this kind of candy. Developers of the "Microgaming" software also like them, having created (especially in order that adults can feel themselves a bit childish) a sweet video slot. This slot machine also seems to be a slightly looking like some parts of the Ralph's world. (Here: The cartoon "Wreck-It Ralph" – the 52-d animated movie of the "Walt Disney Animation Studios", produced by Rich Moore, who previously directed "The Simpsons" and "Futurama".) The gambling is full of sweet and lovely characters, for example siblings of Vanellope von Schweetz. (A little girl-glitch from the "Sweet Afterburner" game.)
How does the Gameplay of Sugar Parade Slot represent itself?
Transparent 5 reels are framed in the blue-rosy candy-cane. A background is made of turquoise, green, blue and light-green sweet-fantasy castles, which are built in fluffy clouds. Before candies fill almost all your screen and mind, please, concentrate on the main points of the slot game. The first point is about buttons:
"Bet" sets a wager, which you can select from 0.010 to 1.00 coins range.
"Max Bet" allows you to make the maximum bet just in 1 click.
"Coins" displays a desired number coins, which you've selected for the line.
"Spin" orders the reels to move.
A special option is named "Autoplay". It can save you from the boring clicks on the previously described "Spin" button. The last and very important point is about symbols. They all look like candies with faces. In addition, you will meet candy-styled sings, which tips are swirling: orange "K", sunny-golden "Q" and flickering-pinky "A".
Features that cannot leave you indifferent
There are 3 special and very pretty symbols in the Sugar Parade Slot, which bring you a chance to win real money:
The 1-st: the logo that looks like two words ("Sugar" and "Parade") that are placed on a thawed cloud of pink marshmallow. The upper word is coloured in two shades of rosy and the lower one is bright-yellow. There is also a cute rainbow over the words, which starts from the top of "S" and touches "R".
The game`s logo substitutes all the icons, except the two next, helping you to create winning combos. Why? Because "Sugar Parade" is the "Wild" symbol.
The 2-d: fashionable shining with golden decorating "Head of the Kingdom", which will follow you to "Picking Game" if there will be 3 such portraits on the reels!
The 3-d: large banana-vanilla "Ice-cream" with large blue surprised eyes triggers you to a bonus round that is called "Freespins". Here all the winnings are multiplied by 3 times. If you land not less than 3 "Ice-cream"s be glad to get 10 extra "spins".
What can be added?
We would call the Sugar Parade Slot a bit different. Something like "Satisfaction For Eyes And Mouth" because eyes just run away from a variety of sweetness! In order to enjoy the sweet fantasy world, you don't need to have any registration in the web casino. In addition, there is no necessity to make any download! You are allowed to play this gambling online from your home… AnYwHeRe!