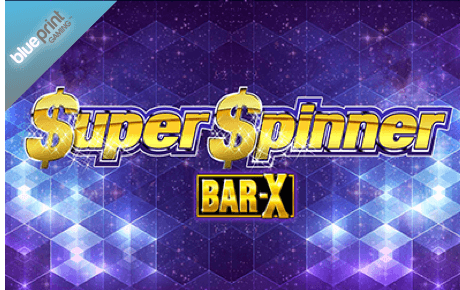 Super Spinner Bar X is a simple retro slot game designed by a casino software developer Blueprint Gaming. The rules, sound effects and graphics here are relatively simple, but you can enjoy it nevertheless. The main advantage of the game is a huge progressive jackpot, and there are other bonuses that make this virtual slot machine even more attractive.
How to play Super Spinner Bar X
This game does not differ much from the one-handed bandits you can find in Las Vegas casinos. There are 5 reels and 3 lines (15 slots in general), as well as winlines (horizontal, diagonal and irregular). The number of lines cannot be changed, but you can decide on how much you want to bet. The stakes here range from 0.02 to 50, and there are actually only two symbols – X and Bar. Your final win will depend on the size of your bet and the number of matching icons in the same winning line.
The bars pay more, and you can win as much as 25 000 credit coins if 5 of them form a line. No matter how a winning sequence is made – from left to right, from right to left or in the center – they all pay. This is the biggest difference between the game and other virtual slot machines where only those sequences that go from left to right pay. No matter how the winning line is made, you will get a prize. The RTP (return to player rating) here is somewhat lower than in other slot games, but the emulator itself is much simpler and there are far less special options and rules to remember. And because it is so simple, this game is ideal for novice gamblers. You can learn how to play it very fast, especially when playing it for free.
Jackpots and bonus rounds
Given that this is a progressive jackpot game, there are actually three kinds of jackpot here: king, royal and regal. They all are triggered by the same icon – Jackpot King. When there are five of them in game, extra bonus round starts. In this round, all the reels are replaced with a new set with crown icons. You need to get 15 of these crowns to enter the next level. All winnings in these rounds are accumulated and then go to your balance.
There are also special icons of dollars that activate bonus spins. The number of spins depends on how many dollar icons you currently have in the game, but no matter if there are 3 or 5 of them, each free spin always brings some prize. And if more dollars appear in-game during free spins, you get extra rounds, during which your winning will increase even more.
Where to play Super Spinner Bar X
This virtual slot machine is made for web browsers and can run on any platform, including desktop computers, laptops, Android and iOS mobile devices. There is no download or registration requirement when you play it for free. If you want to play this or any other slot game for real money, you may be asked to register or a casino website. Registration is needed to make sure that you are of a legal age and have a right to play casino games in your country. All your personal information is protected and under no circumstances is transferred to any third parties.