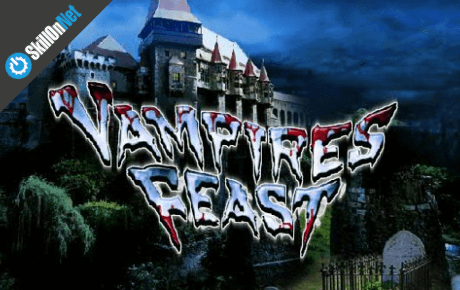 SkillOnNet Software is happy to present players a new high-quality video slot game. This is not just an ordinary game with wild and scatter symbols. It is a new world with four bonus rounds, free spins and re-spin of the interface after two Draculas appear! Can you imagine how easy it will be to win real money playing this slot game on the website of our online casino? Gambling has never been this interactive before the release of this slot game! Moreover, there is no download and no registration required to play the game. Modern gambling is made for players. That's why there are no odd moves needed to enjoy high-quality video games.
The interface of the Dracula themed game is made in dark tones and give the player the feeling of being in Transylvania hundred years ago. All symbols have 3D animation and are stressed with bright sound effects!
Gameplay and Payouts
This is 5-reel video slot machine with 20 paylines and a jackpot of 5000! As usual, the minimum bet in "Vampires Fest" is 0.01 coins per payline. At the same time, the maximum bet is 5 coins per winning line. Players also will be happy to find out the autoplay option. It can be easily turned on manually before the start of the first gambling session.
Autoplay offers gamblers to start from 10 and up to 100 rounds one by one. You don't have to press the "Start" button after each spin. Just play and win money quickly! Multiplier is also presented in the game. It turns on automatically after each lucky spin and looks like a card game. The player has to choose one card between a red and a black one.
Features and Bonuses
This is a truly unique slot machine, as gamblers will be able to find out three different bonus games there. The first one can be activated with a stone symbol. After the stone symbol appears on the screen, a bonus arcade game representing the adventures of the main hero –Dracula himself – will be activated. By the way, if there are three or more guns – the second type of the bonus game will be turned on automatically. There the player will also be surprised with an interesting plot and an opportunity to earn real money doing nothing and spinning reels in online casino.
The third type of the bonus game in "Vampires Fest" is "Grave-Digging". It will be turned on if there are three or more coffins in the game. There is also another interesting offer from the gambling developers. Especially for those who like playing with scatters, SkillOnNet prepared the "Blood Mode" game. There the player will see two girls who will double cash during each spin automatically.
This is quite a profitable game, isn't it? But that is not all! Apart of all the items mentioned above, the game offers free spins rounds. Getting different amounts of scatters, the player can get from 5 and up to 20 free gambling sessions. Moreover, if there are two Draculas in the game, the screen will be re-spun with all the lucky symbols in order to bring win to the player.