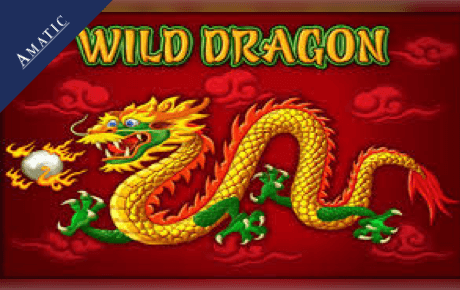 In the culture of all eastern countries, there are evil beings that burn everything on their path. These creatures are very popular in China and are sacred mascots. Not so long ago, Amatic Industries Corporation gave these creatures life in a new video slot called "Wild Dragon". This model will transfer players to China without problems. All traditions of this state have a long history and a logical cause of origin. Since the reign of ancient emperors, the culture of this nation began to grow rich and full.
Gameplay and Prizes
The well-known corporation called Amatic Industries does not lag behind modern trends, so it created the video slot that will tell players about amazing and powerful China. A dragon is the main mythical animal in the folklore of the Chinese. It symbolizes power and might. The dragon can burn everything around, if necessary. Also, this creature often takes part in different rituals.
After the player launches the "Wild Dragon" emulator, the main screen will flash red. Against this background, there is a playing field with 5 reels and 10 lines. By the way, all lines are indicated by corresponding plates on both sides. Above is the bright name of the game. Nearby there is a set of additional options for the user to turn off the sound and also select the game mode. With the help of the flag, you can change the interface language. For a successful gameplay, the player needs to visit the theoretical section, which is open by the "?" Tab. Here the table of payments and also other features of the slot machine are described in detail. After this, the client needs to decide on the number of active lines and a bet on a round. These indicators are regulated by the functions of LINES and BET. In addition, you have two options for starting rotations. You can use a manual (start) or an automatic (autostart) mode. The slot machine has great graphics, bright and lucrative characters and also a light melody. All these details emphasize the overall style of the slot game.
Features and Bonuses
A risk-round will be available after each successful rotation. To double the last win, the user needs to guess the color of the closed card. If it is not enough for the player, he/she can try to guess the suit of the card. But remember that you can lose all winnings. A phoenix is ​​the most profitable symbol, as it gives the player 200 credits. The rest of the pictures and their cost are described in the payout table. As you may have guessed, the powerful dragon performs wild functions, so it can complement combinations. Also it will present additional multipliers when appearing on the main screen. Fifty thousand is the highest payout in the game. Thanks to additional options, each player can win real money!