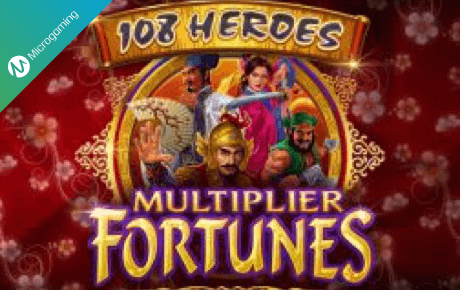 This Microgaming's video slot has been done by inspiration from the Chinese folktale written in the 14-th century. If you adore the heroic theme or you are just curious, you may find this slot machine on our site and play it wherever you are. Small preview has already been finished and we can start with the description of the game process to our readers.
A fantastic Gameplay and Prizes
The delicate pale-orange flowers can be seen on the ruby cloth, being a background, where 5 reels, framed with the traditional ornaments, are placed. The 108 Heroes Multiplier Fortunes Slot's logo is on the right side of them. (We have to admit that the logo is really very delightful! There are four heroes on it. The first we are going to describe is a young and very attractive lady, which long brown hair is decorated with lovely rosy flowers.
She is wearing a not so short, mostly rosy, kimono with the light-violet ribbons on it. This lady holds in both her hands a long sword. This character is surrounded by not so handsome, but anyway, very charismatic men. That who has a small moustache and goatee is wearing a blue turban, holding a large flesh-coloured fan on which is drawn a branch of blooming pink sakura. Another one (seems to be a shorty) has a very angry and concentrated look. In his muscular bare hands, there are two heavy axes. The fourth and the last hero is the brutal one, having golden armour with a small scarlet feather in the peak of the helmet. All faces of these amazing characters are the game symbols of the game slot. In addition, there is a single, a double and a triple "BAR", and large red "7"s. First, you should make your wager with a click on a bet-button. (The range varies from 0.010 to 1.00. If you don`t want to choose it by yourself you can just use the "Max Bet" button.) The "Coins" button sets coins (means number) per line. By the way, there are 9 of them. The "Spin" button moves reels on. "Autoplay" restarts the activated spin-button again and again.
The Bonus rounds of the casino (number and description)
The 108 Heroes Multiplier Fortunes Slot, as you know, can be played online, having a very interesting feature to offer. The previously described "Heroes" are the Wild multipliers. Every "Hero" is coming in order to multiply (by 2-5 times) your winnings. If you are lucky enough, landing not less than 2 of such symbols (exactly on the 2nd reel), you will be transferred into the "Wild Multiplier" re-spin feature. If once the 2nd reel is locked, the 1st and the 3rd reels will be re-spun and all the winnings will be doubled. The largest prize reaches 1,000 coins.