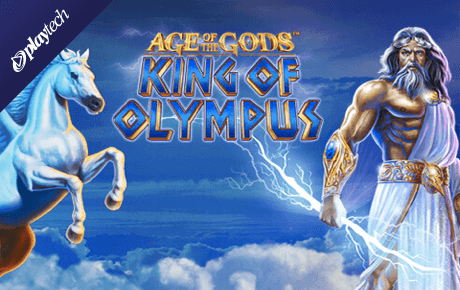 Welcome to ancient Greece! Have you missed such theme in the world of gambling? However, you should not think this is just an average slot machine. All products by Playtech Software are special and this is not an exception! Zeus and Gera had created earth long time ago before the first people appeared – this is the very beginning of the Greek mythology. There is no matter either to believe this legend or not, but it can inspire you for sure!
The interface of the game is made like a paradise somewhere on heavens. Play with Gods and get your unbelievably high jackpot! There is no need at all to complete registration on the website of online casino to run the game. As well as players don't have to download it on the personal computer. Just bet real money and win more cash doing nothing!
Gameplay and Payouts
"Age of the Gods: King of Olympus" is a modern video slot game with quite normal amount of lines and a traditional interface. It has 5 reels in total and 25 paylines. Players can choose a certain amount of lines they want to bet on. There is no need at all to bet on all 25 lines. To check how lines are placed on the screen the gambler has to press the "Lines" button, which can be found below the screen with playing icons.
Looking at lines, the player can choose himself, which lines he thinks will be profitable and which – not. Minimal bet per one spin in this video slot game is 0.01 coins. Players can also change betting range using buttons on the bottom of the screen. Maximal bet in the game per one spin is 100 coins. Another pleasant option that is available in the game – is its progressive jackpot. That means players always win more than they were betting in the very beginning of the gambling session!
Features and Bonuses
This is a smart video slot game with a wide range of additional features that gamblers will be happy to try while playing this video slot machine. Well, while gambling with new video slot by Playtech players will find out: a wild symbol (it is Zeus himself), scatter symbol and 10 free spins. There is also a multiplier option available. Multiplier turns on automatically after every lucky spin. It looks like a card game and can double cash in few seconds.
However, it will happen only if players choose the right card between red and black ones. Now, let's come back to the basic features of the game. The wild symbol is working not only as a replacement, but also as a multiplier in the "Age of the Gods: King of Olympus" video slot game.
The wild one can be found on any reel. It replaces all other symbols on the screen with those that are needed for the lucky gambling combination. Moreover, wild symbols can bring player an x2, x3 and x5 multiplier and boost cash quickly. The scatter can also be found on any reel. It boosts cash as well. However, if players are lucky enough to collect three and more scatters on the screen after one spin of reels, they will get 10 free spins automatically!