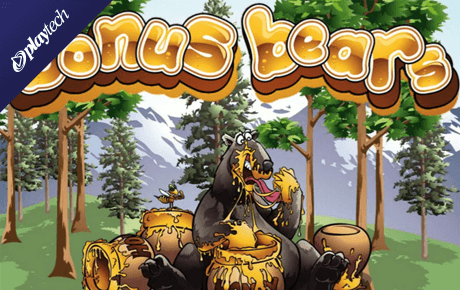 Lonely bears in the woods are no doubt one of the most adorable and romantic settings for both serious stories and children cartoon. Collecting goods for winter, hunt bee nests, protect your territory – every piece of this task requires both wit and a lot of luck: you cannot predict where traps may be hidden, or which of nests is truly dangerous.
Bonus Bears – Be Careful, Take Your Honey
That is why such topic is a good pick for an arcade slot machine. Playtech slot development team thought in the same way and created slot by the title of Bonus Bears which gives the players an insight of happy and adventurous life of alone bear in the dark woods.
Bonus Bears Gameplay and Prizes
As for the gameplay itself, Bonus Bears is a good mid-paced game with 5 reels of 3 rows to spin and 25 paylines to make combos from. The minimum bet here is 0.01 while the maximum one is limited to 0.50 depending on a chosen actual currency available at the online casino. Along with that Bonus Bears slot allows players an opportunity to win a jackpot, collect wild symbols and free spins. Aside from that, there is a hidden bonus game, score multipliers and totally adorable animations and thematic soundtrack which make this slot even more engaging and addictive.
Bonus Bears Features and Bonuses
As for special features, Bonus Bears has everything required for a good and comfortable game. From the start, a wild symbol here is a place which helps you to build successful combos from ordinary spins. The second point here is additional free spins which can be gained from according symbol fallen onto your reels. The third thing to mention here is a jackpot which, if you are lucky enough, can bring you up to 5000 credits which can be converted into an actually chosen currency before withdrawal.
And the fourth thing to look at is a bonus game. Once you collect enough bee nests on the reels, you are brought into dark woods with 5 various trees. Pick one of them, and the bear will start climbing onto it collecting honey from bees. It is possible to take honey from up to 5 nests, and each of them might become the last one. The case is, there is a possibility that the nest will be guarded by bees which will attack you if you are not careful. Once such thing happens, the bear falls off the tree, and the game turns to regular slots providing you with all the scores you gained from the bonus game.