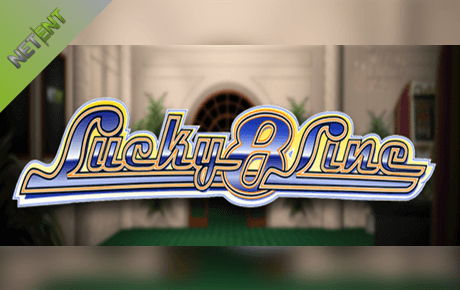 The first slot machine appeared many years ago. At first, it appeared in pubs and saloons. After a few years, gamers began to visit the gambling halls and win real money. Fortunately or not, our world is rapidly developing and today you do not need to leave home to visit a casino. Everything is available on the Internet where you can find the Lucky 8 Line slot. NetEnt offers to return to the era of casinos that filled all the streets of bright Las Vegas and test the new slot machine. Lucky 8 Line has an original design and high RTP (96.8%).
Gameplay and Prizes
After a short download, the real gaming machine will appear on the screen. It is located in a luxury casino somewhere in Las Vegas. We can say that the developers have spent a lot of manpower and resources to recreate the atmosphere of a real gaming hall. In the background statues, sofas and tables are depicted.
The main space is for a screen with 3 reels. All 8 paylines are marked with multi-colored indicators.
It is worth noting a beautiful 3D graphics. It creates the effect of presence and the player instantly plunges into the casino atmosphere. probably you already guessed that the Lucky 8 Line slot offers the classic character set. So, combinations are formed from appetizing fruits and Bars. Notice the large logo and 2 additional windows at the top. They display your bet and winnings. The rules of the game are simple and clear. First, the player needs to choose the number of lines on which the bet will be located. So, you can choose: Single Line or All Lines. The rate is determined by gold coins. Using the Clear Bets option, the participant needs to clear the latest indicators. Please note that the size of the bet and the number of lines are the most important indicators, since they determine the size of payments. By the way, payouts in Lucky 8 Line reach 1000 coins. Therefore, you should click Bet Max and Spin. If you come to an online casino to relax and win real money, then click Autoplay and wait for combinations.
Features and Bonuses
Lucky 8 Line is a classic model that was used by all gaming halls many years ago. It became popular due to the limited character set and large payouts. For this reason, the developers have added neither bonus rounds nor special characters. Fortunately, this did not affect the results of the rotations. In this slot machine, payouts are charged after each round, so you don't need to worry that your pockets will be empty. In addition, Lucky 8 Line has one important advantage: the combinations are made up of 2-9 pictures located in different positions.
Someone uses this slot for nostalgia while other players want to win real money.