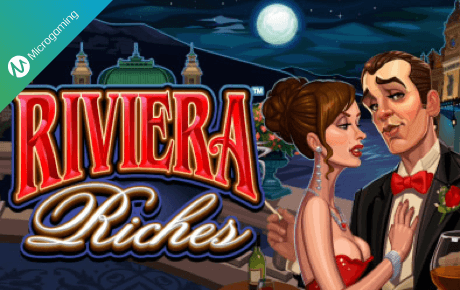 Word "riviera" has been come to us from the middle of the 18th century from the Italian "seashore" and still means a coastal region with a subtropical climate and vegetation. Most famous meaning is a part of the Mediterranean coastal region of southern France and northern Italy, extending from Cannes to La Spezia, which is known for its mild climate, beauty, and fashionable resorts. For the play gambling, we do not need to go there and also it is not necessary to present in the casino capital – Las Vegas. We can just find favorite one on the internet web and play it online! Why have we reminded exactly about Riviera? Because slot about which we are gonna tell is the Microgaming's child – Riviera Riches.
Lookover about this slot machine's Gameplay
Charming video slot has the look of the legendary "Royal". (Note: This is about most famous casino in the "Bondiana" – series of the films about adventurous, determined, aimed at forcible conflict resolution, avid for beautiful women, gambling and alcohol lover British naval commander James Bond also known with his codename – "Agent 007".) Background on which are placed fifteen paylines and five reels decorated with a golden frame. There are few main characteristics of the Riviera Riches slot:
– the minimum allowed coins via a Line = 1 (the maximum possible number = 20);
– the minimum size of coins = 0.010 (the maximum value = 0.50.);
Descriptions of the slot game's button console:
– "Lines". If you want to choose a paylines number.
– "Coins". If you wish to select a wager.
– "+/-". If you gonna set/change denomination (of coins). (The possible range – 0.010-0.50.)
– "Spin". Starting a game.
– "Bet Max". Turning the reels with the maximum wager.
– "Expert". Spinning the reels without their interruption. (After this action, button "Autoplay" should be pressed.)
There is an exquisite set of the main symbols: a glass of brandy with a cigar and 'chips'; a vintage red Cadillac; a grand hotel; a beautiful lady in a red dress that is holding a glass of ruby wine; a handsome, looking like a mister Bond, man, weared an elegant smoking and of course the volumetric beautifully deduced gambling cards' value: a crimson 'A', a tiger 'K', a glowing-yellow 'Q', a shamrock 'J' and a sapphire '10' with the little colorful casino chips near them.
Are there Bonus rounds in the casino Riviera Riches?
We are saying without thinking that YES! Everything is spinning around two special symbols: the different kind (coins and bills) of money in front of wish there is a blue italic word "Scatter" (as you could guess it is a scatter) with the yellow shade over it and a picture of the rotating roulette with written red "Bonus" and as a previous one it has a golden shade – a bonus. There are 2 quite attractive features which you will definitely like. The first is a "Free Spins". To alert it you must be sure that 3(or more) scatters have been anywhere landed on the reels. If this simple rule is successfully followed, you will be gifted with 12 spins. Prizes for this bonus round can be tripped. The second one is a "Roulette Bonus". You can play a roulette from the previous feature or by landing anywhere, on the 1st or the 5th reel, the bonus symbol. The main prize which you can win is $1,500.