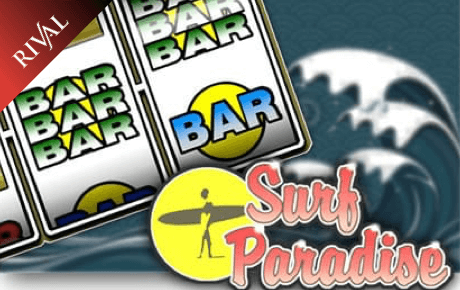 When were you on the tropical lag for the last time? A modern man does not have time to rest. Every day we go to work and solve different problems. Take a break and rest. For it, you do not need to spend big money and go somewhere. The Rival Corporation has created a new "Surf Paradise" online game that will transfer players to the sunny beach of the tropical island. Here, every player will enjoy a beautiful scenery, taste delicious cocktails and also surf. Also you will find a warm ocean in that you will find many payments. Pack your bags and go on the virtual journey.
Gameplay and Prizes
Having downloaded the game, the participant will understand that its actions take place on the virtual beach where there are no more people. It makes it possible to distract and forget about the problems. Stylization of the "Surf Paradise" slot machine fully corresponds to the main game theme. The design of the video slot can surprise and delight the players with bright colors with beautiful graphics, pleasant musical accompaniment and an interesting story. Online music in the game will allow gamers to relax and get pleasure from the gameplay.
The main hero of the video slot is a young guy who loves surfing. If you help him, he will teach you it and also give you high payouts. The name of the game is located at the top. On the left side there is a small beach house. For the convenience of players, the developers have posted a paytable on the main screen. This detail will help and also motivate players. In the upper right corner there are additional settings for the convenience of users.
Now let's look at the functional control panel. In order to make a bet player should click on the "+" or "-" button near the coin. In order to activate the biggest bet and win the main prize you need to click on the "bet max" button. A large red "spin" button starts the round during which you can change the settings. The "auto" key will start a round of continuous spinning during which the player cannot change the bet. In general, the "Surf Paradise" online game has a bright interface and has all the necessary functions for the comfortable gameplay.
Features and Bonuses
The "Surf Paradise" online game has many bright pictures that complement the general storyline. By the way, the main prize is 2000 bets and you can get it after three identical pictures appear on the game board. The developers of the Rival company always take care of their customers so they add modern qualities to each slot machine. But if you want to first learn the rules and algorithm of the game, then it will be better if you activate the demo mode and use virtual credits.