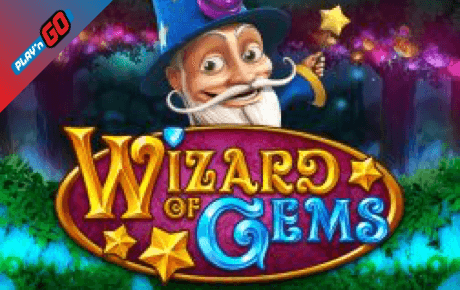 Wizards and witches are interesting for ordinary people because of their specific abilities, bordering on fantasy. Fantasy is played in films, cartoons, books, paintings and even music. Developers often introduce the plots of their thematic slots of magicians, magicians and other magical characters. Especially this theme is loved by the creators of entertainment slots.
Gameplay and Prizes
Despite the fact that there are already many devices on this subject on the gambling market, manufacturers are still trying to outperform their competitors. Play'n GO delighted fans of excitement, creating a stunning in its characteristics video slot – Wizard of Gems, which includes an interesting design and game solutions. Fabulous characters and the main wizard meet all lovers of gambling. The interface of this game is designed highly qualitative. The first thing a gambler sees is a beautiful animated screensaver with the wizard, and then a brief description of some of the game's features appears before him/her. On the screen, there are 5 beautifully decorated drums with motley multi-coloured symbols – stars, triangles, flowers and even hearts.
To the left of the field, the main magician with a book and a wand in his hand is drawn. Sometimes he makes movements. The leaves are constantly falling on the field, saying that the game is now in the autumn season. The same is seen against the background – autumn trees with unusual fruits that are crystals. Graphics here are very modern and high-tech. Animation, pictures and drawings are detailed almost at every stage. Throughout the round, the player is accompanied by pleasant relaxing music.
Management is designed for the convenience of the user. The bet is placed at the bottom of the screen, and the game is started here. Buttons for viewing payout ratios and auto-game mode can be found in the lower left corner. The main game consists of 5 reels and 20 paylines, which are not regulated and participate in each round. To activate the rotation, you need to press Spin. In the Paytable tab, you can get acquainted with the game lines, special symbols and their possibilities in detail, as well as study the table of multipliers.
Features and Bonuses
Image Books are wild. During free spins, you can collect up to nine wild symbols. The golden star is a symbol of dispersion. It activates the free spins feature. For this, you need to collect three or more stars on the playing field, regardless of the lines. The game has another interesting feature called Multipliers. So, after each successful round, the line with prize pictures disappears and new ones fall out, but with the multiplier of x2. If this round was also a winning one, the symbols disappear again and the new ones play with the coefficient of x3.