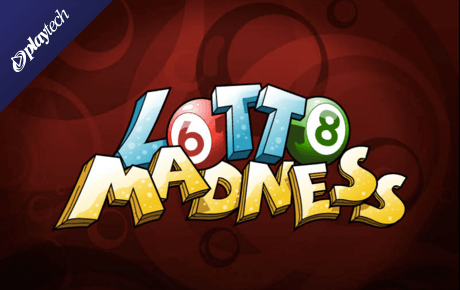 Almost everyone knows how to play lotto, but only a few are familiar with the history of lotto. The history of its appearance is very interesting. It was in Italy in 1530. The game in the lotto quickly won the people's love, people began to play every week, and then the government had to impose a ban, because the population was carried away by gambling. Since then, it has already been more than one hundred years, and Loto's game has become available to everyone. Anyone can start playing regardless of age, weather conditions and time of year. During its existence, many people took part in it. The company Playtech dedicated this game to its video slot "Lotto Madness".
Gameplay and Prizes
In the Playtech collection there are slots of different types. Especially among them stands a slot on the lotto draw, which in fact combines the aspects of two favorite gambling games. The Lotto Madness machine combines the properties of online lotteries, real raffles and slot machines. It turned out a universal entertainment. Multicolored dancing letters, some of which are made in the form of balls from drawings, musical accompaniment, dark red background of the screen set us up for victory. On the white field, the game symbols are arranged. They are ready to start rotating in the windows of the reels to form a combination. The letters of the game logo scattered at the top. On the sides of the screen there are columns of lottery balls with numbers. Directly under the playing field are the scoreboard with information on the game:
LINES – the number of lines participating in the round;
LINE BET – bet on the line;
BET – the size of the bet;
WIN is a win.
Below are the buttons that control these metrics. In order from left to right:
PAYTABLE opens pay tables: here information about coefficients, properties of symbols, special functions.
BET regulates the betting options in the game.
LINES does the same with the number of lines.
BET MAX sets the maximum.
SPIN starts the rotation of the reels.
All elements on the screen – like the attributes of the holiday, as if the win was already at the very beginning of the game, and now the joyous mood filled everything around. The algorithm of the game is standard. First you need to get acquainted with the pay tables. You can open them in the game at any time.
Features and Bonuses
To get free spins, you need to "catch" a bonus symbol on the first and fifth reels. In this round, players need to rotate the Crazy Wheel to determine their prize. Lotto Madness gives players a chance to win 10 thousand coins. You can buy an opportunity to play in "DOLLAR BALL" between rounds. Here the player is waiting for another lottery: you need to guess the numbers. Matching all the options will bring the jackpot win. If the numbers are guessed is less, the winnings will be determined by percentages.