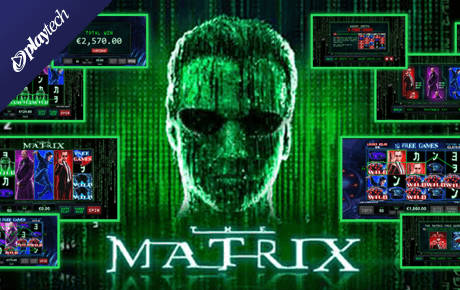 Matrix is a science fiction film created in 1999. It caused a lot of emotions and compliments from the audience, as this genre was a notion in 90's. The film tells about distant future where simulated reality "Matrix" replaces people's life and their bodies are used as a source of energy.
The Matrix – Another reality
The film made Keanu Reeves, the main character of this movie, popular. Also "Matrix" used an interesting visual effect – bullet time – it's a sort of slow motion while fighting to add entertainment for a film. Playtech likes to use ideas of different films in their slot machines, this time they took a science fiction film as a base of The Matrix slot game. If you haven't seen this film or it has been long-long ago, you can do it right now with this gambling slot, as heroes, ideas and plot were not changed. It means you will see Neo, Trinity, Morpheus and agent Smith. Don't think that the creators limited only with the same theme, they added a lot of interesting characteristics: free games, special symbols and even unlimited free games.
Gameplay and Prizes
In every gambling, we start the gameplay with a bet, this time it is from 0.01 to 2.00. After the first spin, you are in the game. There is no registration and no download here, so don't waste time and begin a fascinating game. Slot gambling contains 5 x 3 reels and 50 paylines. The lines number is unchangeable. The Autoplay function is used when the player needs a little break for a snack or something else. The reels are spinning till 99 spins end or a new feature appears. To get a lucky combination, the gamer needs to collect three or more same icons on the paylines. Then he or she gets a certain prize, bonus or special feature. If to speak about payouts, the most expensive symbol is Neo (Wild), the player will get from 100 to 500 credits. Agent Smith is worst 250 credits maximum, Morpheus – 200 and Trinity – 150 credits maximum. By the way, there are also other icons, for example, black glasses, a telephone and hieroglyphs, but they can bring even less – from 10 to 125 payouts maximum. The casino game proposes three special icons: two Wilds and Free games. The first Wild is Neo and he only replaces icons in order to create more winning combinations. The second Wild is a black cat that can be seen only on reel 5. It can duplicate on reel 1 and trigger De ja vu shuffle.
The Matrix – Unlimited features
Features and Bonuses
Wild cat opens Deja vu shuffle. When the black cat occupies reels 1 and 5, other icons are shuffling to create winning combinations with the cat icon. There are two variants of free games: 8 free games from agent Smith and unlimited free games. During the round with agent Smith, icons with him appear with each spin to make more wins. If to speak about unlimited games, icons with its sign are locked and if the sphere lands, it removes all wild signs. Unlimited games have their limit: when 6 wild signs stay on the reels, it means you continue the main gameplay.