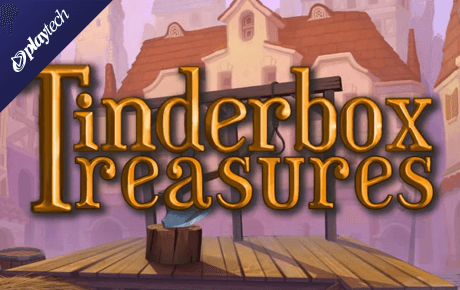 When developing game models, the provider often refers to famous fairy tales. As a rule, such plots guarantee the success and popularity of the model. The Playtech brand also turned to a popular fairy tale called "Ognivo". If you have not had time to read it in childhood, we recommend that you fill the gap. Recall that the plot unfolds around the magic flint, which the soldier took from the magic hollow at the request of the old witch. The characters here will help the user throughout the adventure. "Tinderbox Treasure" is waiting for every player!
Gameplay and Prizes
The basis for the slot machine is a well-known story by Hans Christian Andersen. Stylish graphics depict the wicked lair of the witch. This is supported by every detail of the interface. So here we can see a lot of skulls and candles. The lower part of the screen is covered with golden coins this means that we are moving in the right direction, since every gambler visits an online casino for real money, is not it? All the symbols correspond to the main theme, and characters were executed with 3D graphics. After the paid chain appears on the game board, you will see bright animations.
By the way, the plot of the video slot unfolds on 5 reels and 25 lines that are active by default. The control panel is laconic and understandable. In the center is the field that displays the player's current payoff. On the left side is the Total Bet function and its additional "+" and "-" controls. The right side of the control panel is occupied by three buttons that activate one of the rotation modes. So the player can activate manual, automatic or even turbo modes. In the upper right corner, there are additional buttons that disable the soundtrack and also open the "help" tab. Here you will find additional information about the game.
Features and Bonuses
Now let us look at the additional features of the product. So "Copper Wild" can appear only during normal rotations. An additional "Silver Wild" is active only during the first re-spin. During the second re-spin, "Gold Wild" may appear. It is stretched to three positions vertically and increases standard coefficients by three times. As for "Free Games Wild", it is active only during free spins. Also it multiplies payments by three times. But before this, the client needs to open one of the boxes that hides additional prizes. Scatter can activate a round of prize spins. During this round, one of the jokers will operate, which multiplies payments by 3 times. Upon completion of the Free Games, the Dog Spins begin, during which all kinds of wilds appear. They replace other pictures. The main prize is 100 thousand bets.